Visit the Arjo team at this year's Arab Health Exhibition to witness first hand our display and our passion for improving the lives of people affected with reduced mobility.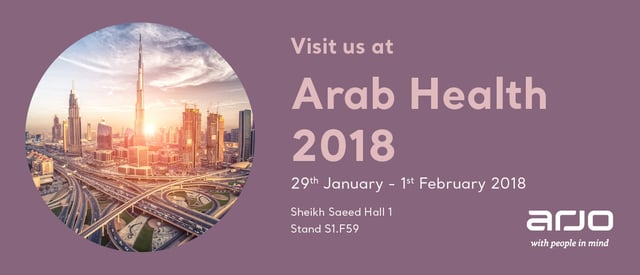 We are excited to announce that we will again join this year's Arab Health Exhibition and look forward to seeing everyone who is attending the gathering in Dubai this week.
This year you will join our team who are delighted to show and discuss our display that will give a sneak peek into our new company's products and solutions. Want to know more? Simply drop by our booth.
The Details:
Where to find us? We are in Sheikh Saeed Hall 1 at Stand S1.F59
We will be live updating our exciting stay so follow us on our socials below and with our handle #arjoarabhealth2018 #arjo
For more on Arab Health 2018 see their promo video:
About Arab Health:
Arab Health is the largest gathering of healthcare and trade professionals in the MENA region. The 2018 edition of the event is expected to welcome more than 4,200 exhibiting companies and 103,000 attendees from 150+ countries. Exhibition space is almost sold out - complete a stand enquiry form to receive more information.
Accompanying the exhibition will be 19 business, leadership and Continuing Medical Education (CME) conferences providing the very latest updates and insights into cutting edge procedures, techniques and skills.
Arab Health 2018 will take place from 29 January - 01 February 2018. The exhibition is free to visit if you register before the show.