Extract from Clinical Research Poster: Easing the Burden of Choice: A Concept to Map the Relative Performance Characteristics of Product Combinations in Clinical Practice: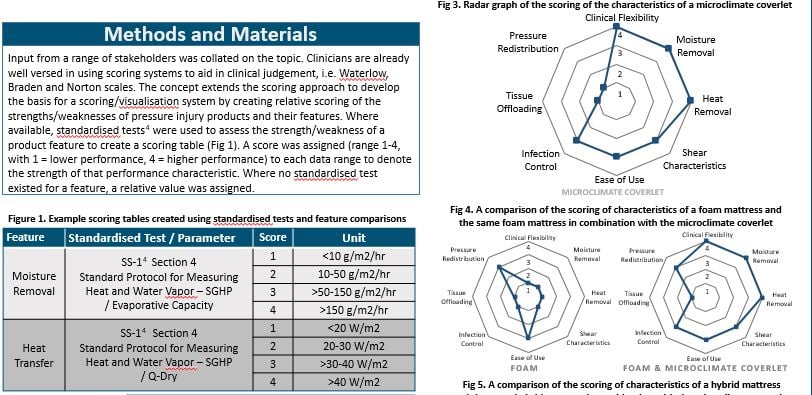 Introduction:The clinician is presented with an increasing choice of equipment selection for pressure injury prevention and management. Manufacturers often receive questions and requests from clinicians for advice in combining appropriate products, particularly when merging different therapies such as microclimate management coverlets 1 and support surfaces. There is a need for an easy process to assist clinical staff in providing the optimum combined solution for their patient, which may ease the burden of choice.
Methods: Clinicians are already well versed in using scoring systems to aid in clinical judgement. The proposed concept extends this scoring approach to develop the basis for a scoring/visualisation system by creating relative scoring of the strengths/weaknesses of products and their various features.

Results: A conceptual scoring/visualisation system for the parameters of each type of product was developed. The results were incorporated into a 'radar' style visualisation graph. This provides a quick and easy way to interpret and compare product options to form an appropriate patient solution.

Conclusion: The proposed concept provides a visual means of comparing and combining performance characteristics of different types of support surface technologies for pressure injury prevention.
Whilst this is a conceptual model which has not been clinically proven, further validation and refinement is being considered.
Please contact your local Arjo representative to find out which solution can be best tailored to your needs.